Non-Invasive Face
Lifting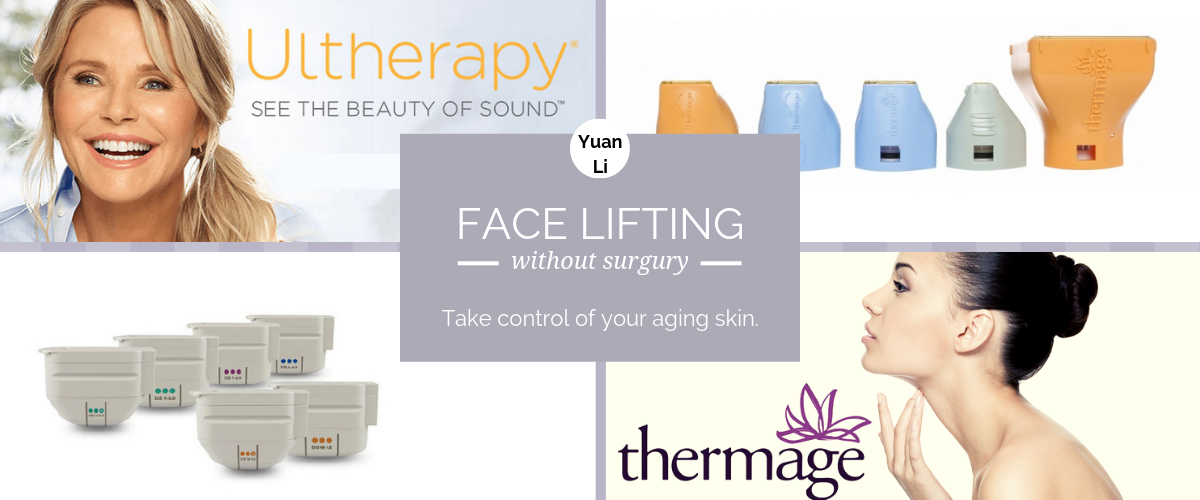 What is non-invasive face lifting ?
If you have marionette lines, nasolabial folds, sagging cheeks, jowl and neck, and don't want to go under the knife, then Ultherapy® or Thermage® is what you need.
Ultherapy® is the FDA approved ultrasound treatment for skin lifting and firming from Ulthera Inc. Ultherapy® is the only non-invasive procedure that targets the SMAS layer of the skin, a non-surgical SMAS Lift. This is the layer which surgeons tighten during a surgical-facelift or threadlift of the mid to lower face. With a built-in ultrasound scan, Ultherapy® can accurately locate the SMAS and deliver a very precise dose of energy to it, and start stimulating your collagen production.
Thermage® is a unique radiofrequency treatment that renews the collagen in sagging or loose skin, naturally giving you a smoother, sleeker and younger look and feel.The radiofrequency (RF) energy uniformly heats the dermis while cooling and protecting the epidermis. It is designed to cause immediate collagen contraction followed by new collagen production which occurs over a period of time. The Thermage procedure is a non -invasive method to tighten loose skin.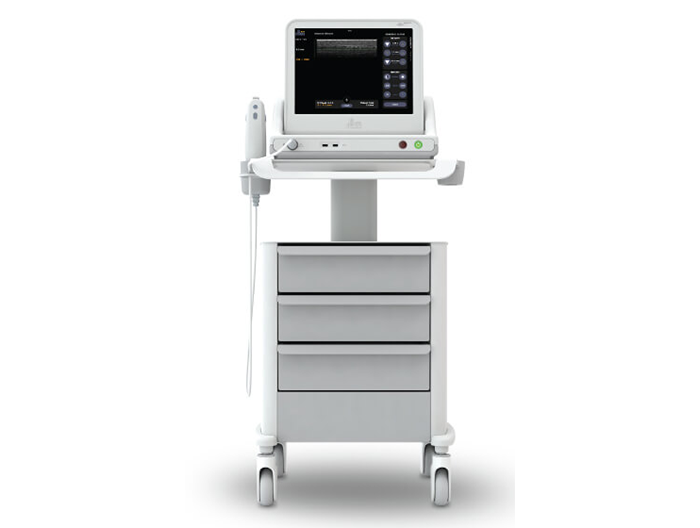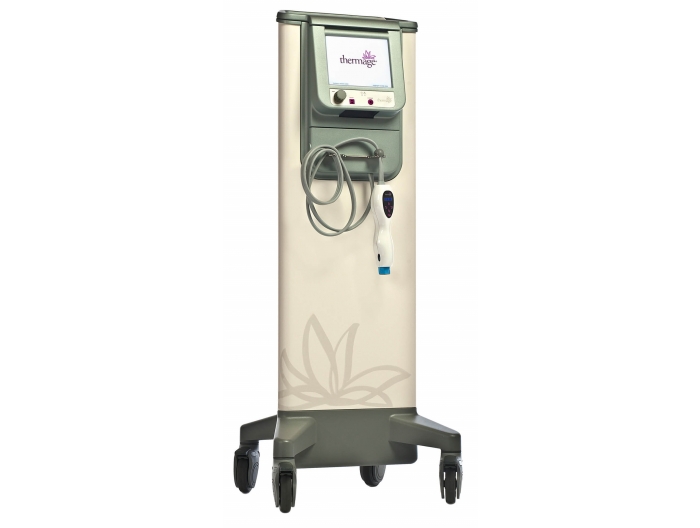 Ultherapy vs. Thermage?
Both Thermage® and Ultherapy® stimulate collagen production and are within the same price range. However, their underlying technology is different. Ultherapy® uses ultrasound technology, whereas Thermage® uses radiofrequency.
They can both be described as the "anti-aging iron" or the none-invasive facelift, but with different efficacies. Ultherapy® ultra sound could deliver energy much deeper into your skin, to the 4.5-5mm SMAS, but not Thermage®. On the other hand, Thermage® radiofrequency could be delivered to the full face, including the upper eyelid, using Thermage® for the Eyes. In other words, Ultherapy® works better on lifting the lower face and jawline or sagging skin, whereas Thermage® works best in smoothing fine lines and wrinkles.
Some energies and technologies will work better on certain individuals. An experienced cosmetic doctor in here will be able to help you determine which is the best procedure for you.
Ideal Candidates
• Mild-to-moderate skin laxity
• Crepey or wrinkled skin:
– Facelift, blepharoplasty, liposuction, etc.
• Post weight-loss
• Post pregnancy
Clinical Case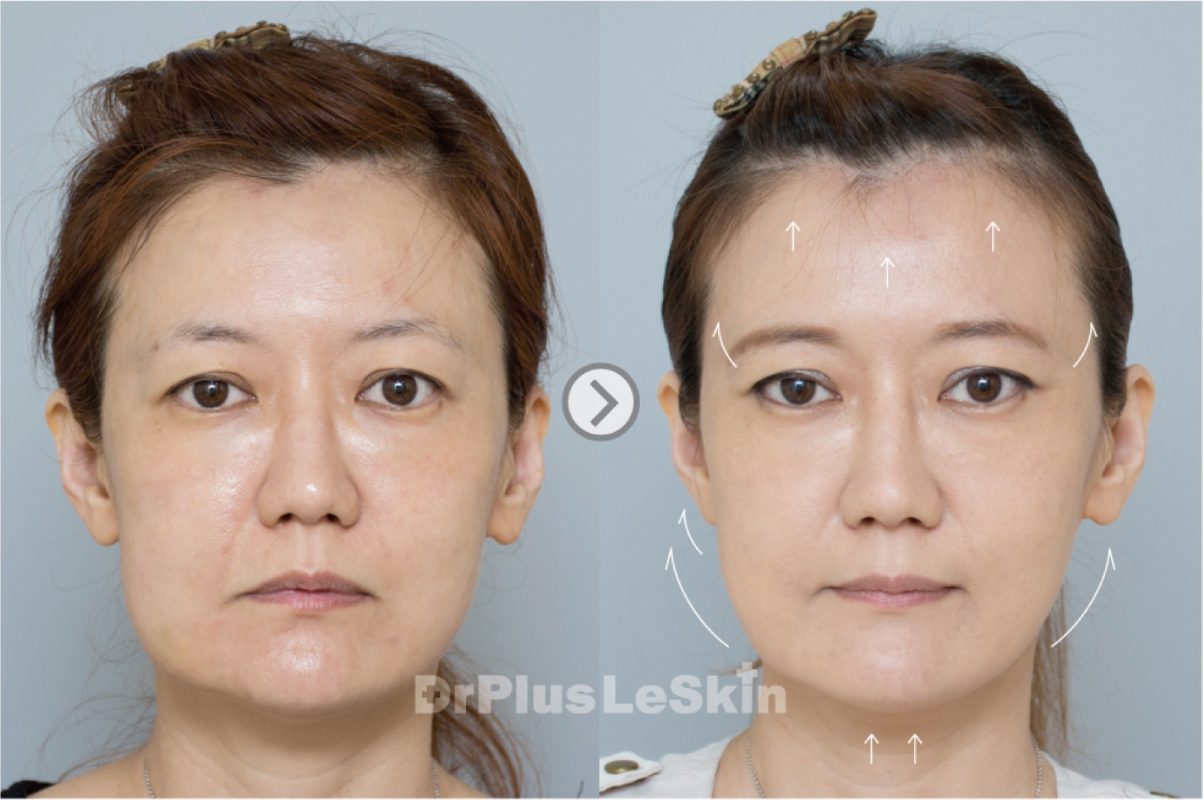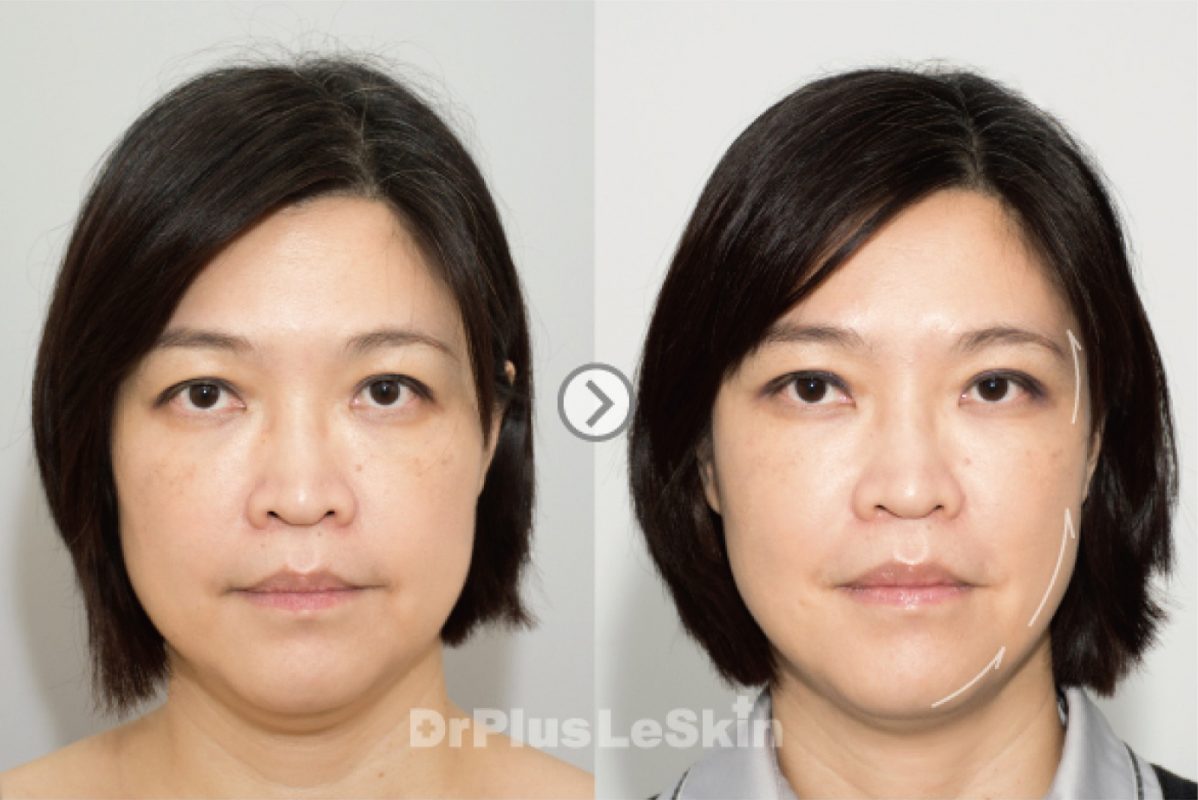 General Safety Information
Individuals with the following should not have these treatments.
Open facial wounds or lesions
Severe or cystic acne on the face and/or neck
Frequently QA
How long will the results last?
For most patients, measurable results appear gradually in the two to six months following a single treatment session and can last for 1-2 years depending on your skin condition and aging process.*
*Recommended by physicians as part of an annual skin rejuvenation maintenance program.
What should I avoid after the treatment?
Avoid using very hot water to wash your face. With Ultherapy, there is no downtime! You can return to your normal activities immediately after your procedure without any post-treatment restrictions or requirements.
Side effects?
Any flushing or redness should resolve within a few hours.
It is not uncommon to experience slight swelling for a few days following the procedure, or tingling/tenderness to the touch for weeks following the procedure, but these are mild and temporary in nature.
Occasional temporary effects can include bruising or welts, which resolve in days, or numbness in a select area, which resolves in weeks.  
As with any medical procedure, there are possible risks associated with the treatment. There is a remote risk of a burn that may or may not lead to scarring, which will respond to medical care, or temporary nerve inflammation, which will resolve in a matter of weeks.
Many observe some immediate tightening that will ultimately result in a natural lift and toning of the skin over time.
How much does the treatment cost?
3000USD~5000USD/per time