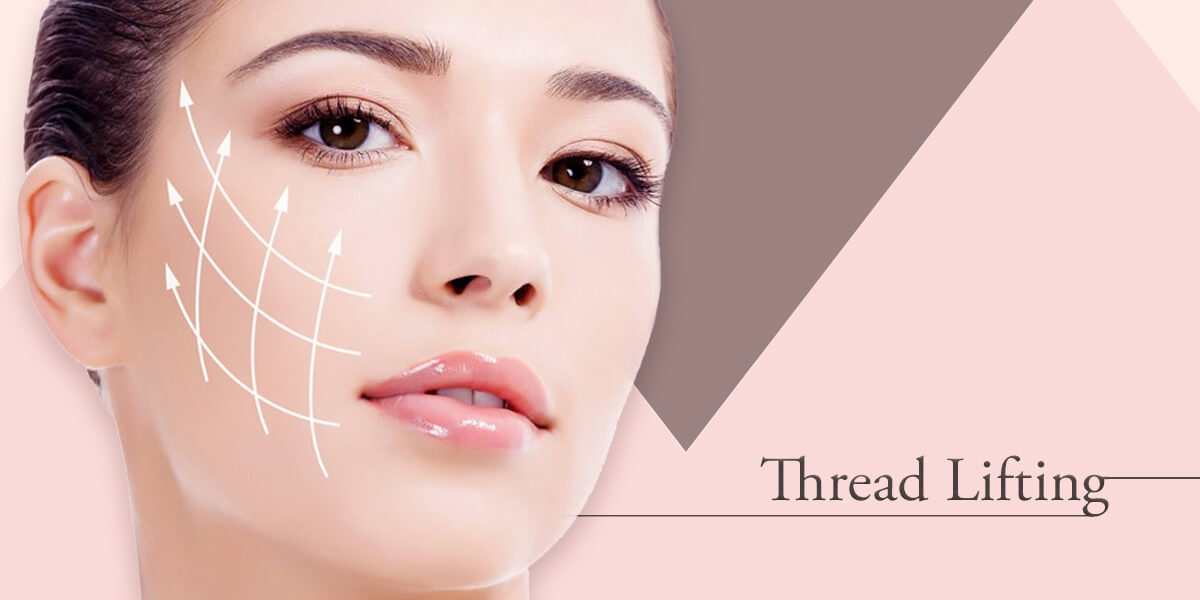 For patients without very serious sagging or loose skin, an invasive face lift surgeries may be too early to be considered, not to mention the fear for scars and longer downtime from invasive surgeries.  Tread Lift surgery, though results not as obvious or long-lasting, has become increasingly popular as a simpler and non-invasive alternative to correct early stage sagging.  In fact the thread lift surgery has been clinically performed for over 20 years.  However, in the early years of this surgery, due to limitation of few choices and instability of thread materials causing problems such as infection and unbalanced pulling strength, it has brought concerns to most plastic surgeons as a trusted method.  Fortunately,   the surgery has undergone several modifications, and continuous improvements in suture thread materials.  With increasing safety and reliability, thread lift has been approved by the US Food and Drug Administration (FDA) and therefore gained popularity. 
How it works?
Feather thread lift is a suspension lift surgery first published by a Soviet Union physician. Because the initial material of threads are unable to easily integrate with the skin and soft tissue, thread puckering and inflammation, as well as other complications, are frequently reported; this surgery has not been acknowledged or adopted by majority of specialty plastic surgeons over the past years. Nevertheless, the evolution and improvement of the surgery and the approval of one double-stranded (direction) absorbable SRS thread by the Food and Drug Administration (FDA) offer scientific evidence and confirm the safety of such surgeries. Although unable to provide the long-term results similar to real facelifts, if using the aforementioned thread as the supplementary sutures for facelifts or as revision intended to mend the shortcomings of a previous facelift,   thread lift is still able to show certain effects.
A minimally invasive embedding lift, this procedure is different from ordinary facelifts. It merely relies on the particular traction and binding force of the   thread and the tension of thread materials to lift and suspend the loose facial skin upward by embedding the threads at multiple points and directions. It is done by first making an incision of approximately 1 cm in the scalp above the temple and then passing the   thread via a specific long needle subcutaneously from the scalp directly to the nasolabial or marionette wrinkles. Next, the direction of the   thread is reversed to return to the original scalp starting point, which is stretched and fixed to the deep fascia. This way, the distal skin and soft tissues may be elevated in the posterior–superior direction. The number of threads embedded is determined by the range and degree of skin laxity. Commonly, an average of 4–5   lines is necessary for each cheek to provide sufficient support and tightening. Meanwhile, the distal skin will only be left with a few needle holes or dimples that do not need to be sutured and will return to a natural state within a week. The   threads embedded below the skin will be automatically absorbed by the body within approximately 6 months. Nevertheless, this does not actually amount to a facelift because there is no removal of any loose skin. Because the thread will be absorbed in approximately a year, the duration and stability of the result is relatively short-lived (averaging approximately 6 months to a year). Therefore, it is primarily used as a secondary procedure to supplement other facelifts and is seldom offered as a primary surgery option now.
General instructions
Rubbing or pressing of the face should be avoided for 1 month postoperatively.

Smoking, alcohol consumption, or irritating food should be avoided for 2 months postoperatively.

Facial massage or irritation should be avoided for 3 months postoperatively.

Filler or fat injection in the facial area where the thread is embedded should be avoided for 6 months postoperatively.
Ideal candidates
Patients with mild to moderate cheek or nasolabial fold sagging.

Patients who have previously undergone a facelift without an obvious result.

Young patients with premature skin laxity due to facial bone reduction.

Patients unable to accept a traditional facelift such as SMAS or MACS lift.

Patients unsatisfied with non-surgical Ulthera or Thermage therapy and willing to boost the effects by a micro-invasive procedure.

Supplementary lift threads for any facelift.
Potential Complications
Temporary facial stiffness or numbness

Incomplete correction

Foreign body reaction, thread knot exposure

Poor healing of the scalp wound
Clinic Cases